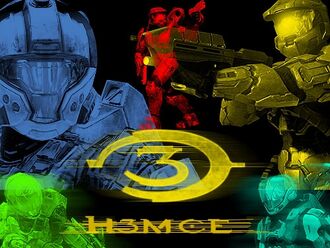 H3MCE was founded in 2008 by Juicman, Teddy, and Soulrot with a collection of good modelers, and good expectation. H3MCE works on re-creating Halo 3 maps, weapons, and equipment for Halo: Custom Edition.
Spliker
Spartan Laser
Spiker
Shalbala [map]
M6 Pistol
M6 Carbine
Pulverizer
Plasma Rifle
Sniper Rifle
Human Chopper
Project Information
Edit
The Spliker was created by Red Haze Productions for H3MCE, for ingame use. The Spliker is a mix between a Spartan Laser, and a Spiker.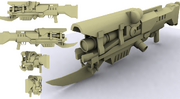 Spartan LaserEdit
The Spartan Laser was featured in Halo 3, H3MCE is bringing the Spartan Laser to Halo: Custom Edition.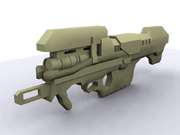 Shalbala is a re-make of Halo 3's, Valhalla multiplayer level. Shalbala is the Halo: Custom Edition version.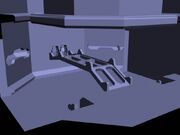 M6 PistolEdit
The M6 Pistol is a concept pistol from the Halo books, designed for Halo: Custom Edition, by H3MCE.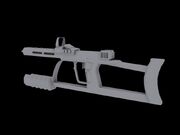 M6 CarbineEdit
The M6 Carbine is a rifle version of the M6 Pistol.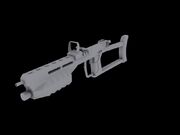 PulverizerEdit
The Pulverizer is a Covenant weapon concept that never made it ingame. Modeled by Red Haze Productions.
Plasma RifleEdit
H3MCE is working on re-building the Halo 3 Plasma Rifle for Halo: Custom Edition.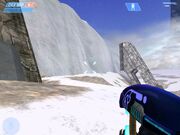 Human ChopperEdit
The H3MCE human chopper is a human version of the Halo 3 Brute Chopper [despite the fact that the Chopper was originally a gift to the Humans from the Engineers, on Harvest]. Modeled, and Designed by Red Haze Productions.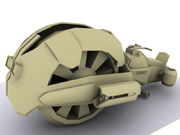 Sniper RifleEdit
The H3MCE Sniper Rifle is a remake of Halo 3's Sniper Rifle, with added detail and better textures. The H3MCE Sniper Rifle was designed, and modeled by Teddy.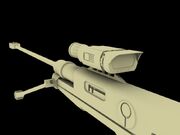 Teddy
Bankhead
REDHaze
Juicman117
Soulrot
Animators
Edit
J'ean-Luc Keller [KillerKip1]
Juicman117
Associating Teams
Edit
Red Haze Productions
Helipad Studios Game Development Team