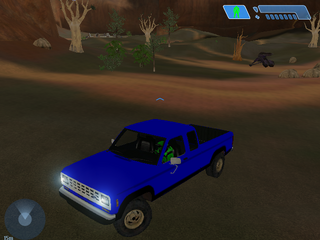 The Ford Ranger is Cody's first customized vehicle. It originated as a modded vehicle for Flat Out 2, being modified from one of Cody's friend's unfinished truck models. The truck was then converted into Halo: Custom Edition, as a tag.
The first Halo: CE Ranger tag looked completely different than the current Ranger tag. The second Ranger tag looked similar to the one in the above image, and the third Ranger tag, is the one seen in Codyfield's map. The new Ranger, being done, has new engine sounds, starting engine sounds, and easier to drive. The Ranger tag is valuable to Cody, thus, it will not be released as a tag for Halo: CE, but only in protected maps.
The Ranger
Edit
The Ranger had been modeled after Cody's personal vehicle, his Blue Ford Ranger.
Spin Off's
Edit
The Ranger chassis was used for many of Cody's earlier vehicle tags. One of such tags were the Racing Truck from Flat Out 2.
Community content is available under
CC-BY-SA
unless otherwise noted.