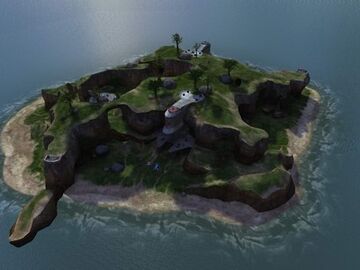 Death Island is a map based off of Halo: Combat Evolved 's campaign mission, "Silent Cartographer".
Death Island came with Halo Custom Edition, and Halo: Combat Evolved. This is what is known as a "Stock Map", a map that comes with the game. Death Island is has two bases, vehicles, and aircraft.
Map Features
Edit
Warthog [Machine Gun]
Ghost
Wraith
Scorpion
Banshee
Shade
Standard Weapons.